avanto architects, a helsinki-based firm led by ville hara and anu puustinen, has completed a barrel storage building for kyrö — a finnish distillery company. located next to a river in a rural part of isokyrö, the design references the farmhouses and wooden barns common to the region. although the building appears to be clad with charred wooden planks, it is in fact made from black board formed concrete.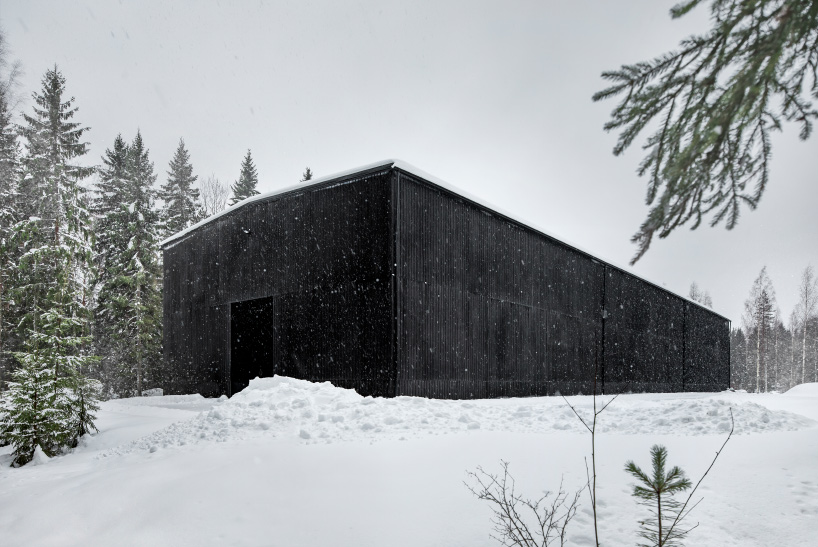 image © anders portman, kuvio (also main image)
the storage facility is the first in a row of five identical buildings that will form part of a larger masterplan drawn up by avanto architects. the project — brought about by increased demand for kyrö's products — will see the expansion of the headquarters in the form of several new buildings and the conversion of the site's existing structures.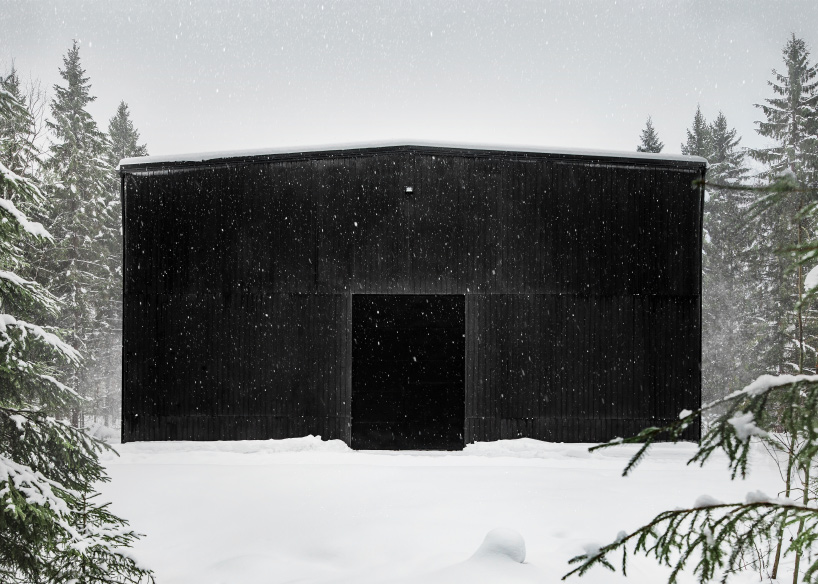 image © anders portman, kuvio
the building is the result of logistical constraints, specific to the project's function. in order to call spirit whisky, it needs to be stored for at least three years in oak barrels. this means that storage buildings needed to be constructed without knowing the outcome of the product. consequently, to minimize financial risk, the buildings were assembled from standard concrete pillars and beams.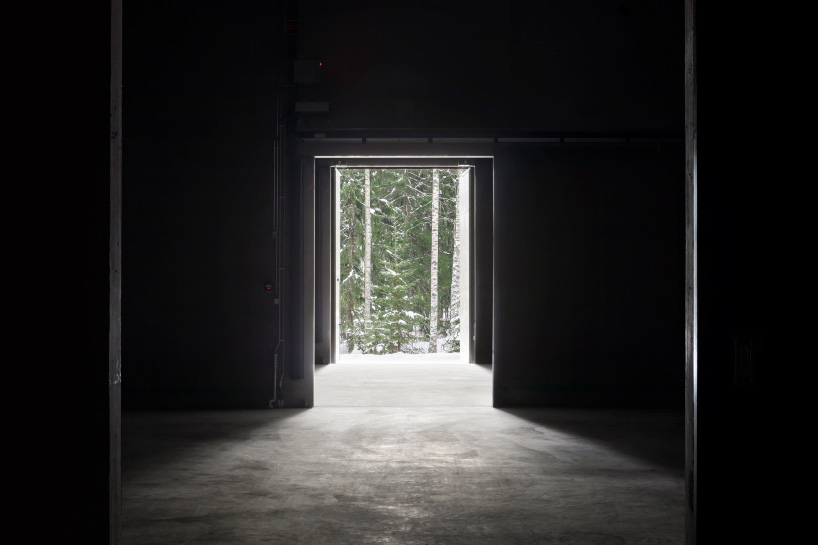 image © anders portman, kuvio
as whisky is a flammable liquid, there are strict fire regulations concerning the storage facility. in response, the architects divided the building into five separate compartments — each of which has a controlled indoor climate in terms of temperature and humidity. furthermore, the amount of alcohol evaporating from the wooden barrels is measured so that the air doesn't become flammable.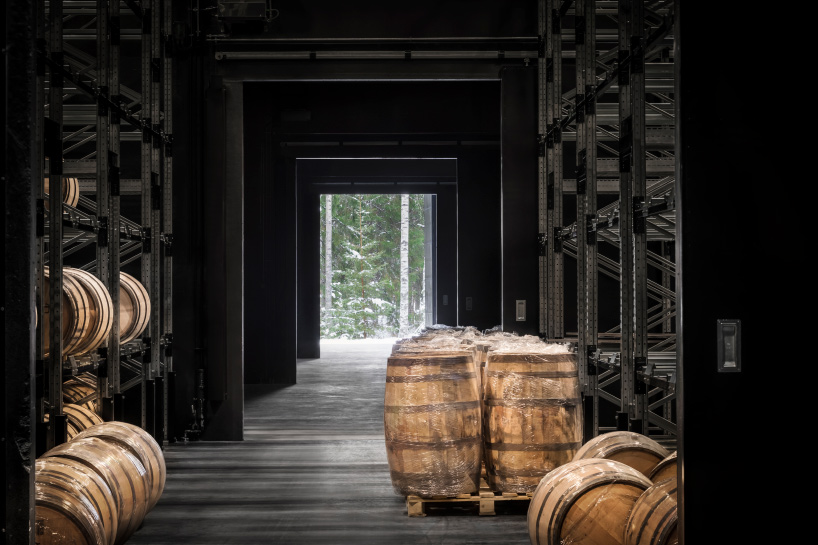 image © anders portman, kuvio
the external concrete elements were cast on a mold made of planks from a dismantled barn owned by the mother-in-law of one of the distillery owners. 'funnily, concrete reproduces the weathered wood material so well that many people have been touching the façade and still believing it is wood,' comments the design team.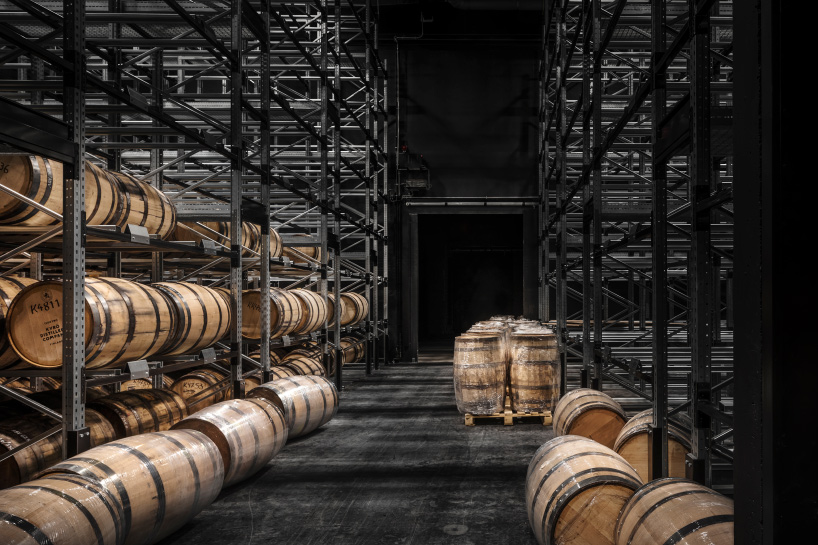 image © anders portman, kuvio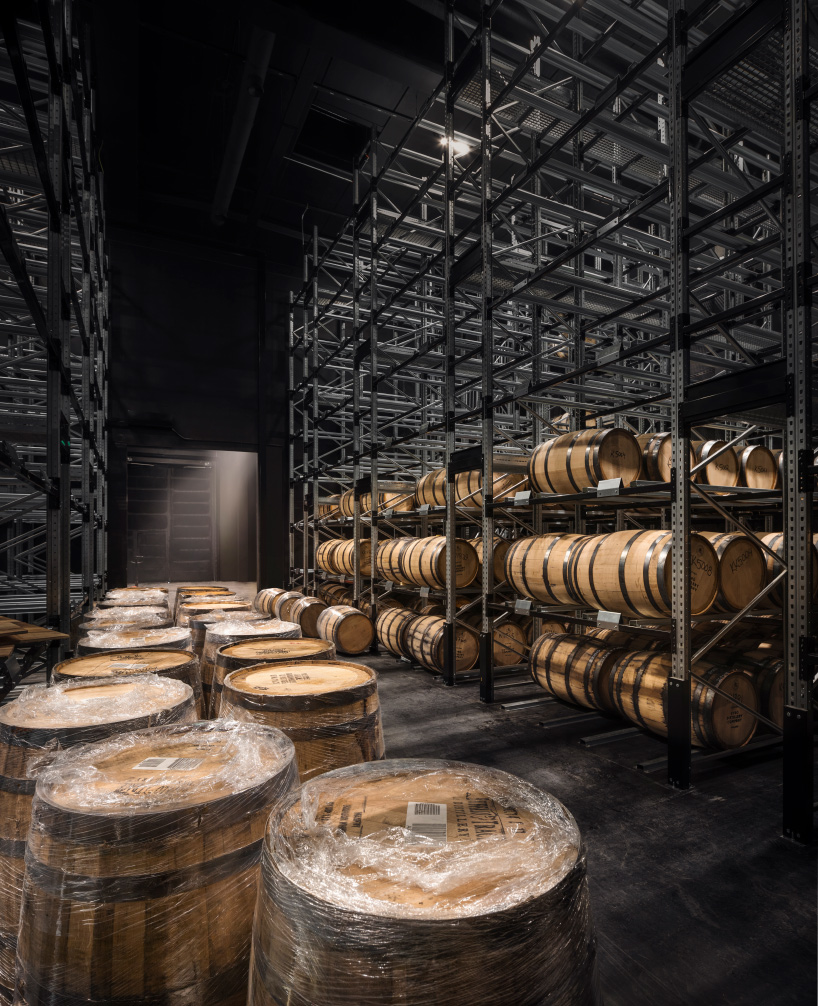 image © anders portman, kuvio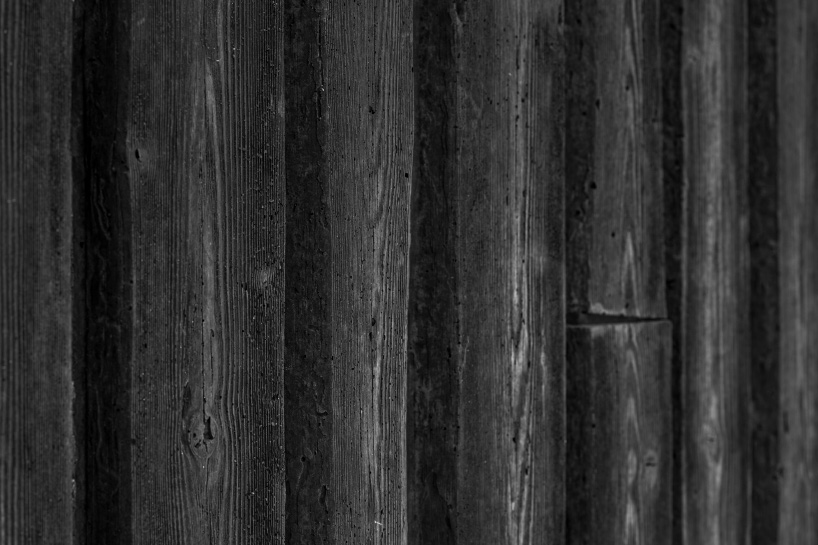 image © anders portman, kuvio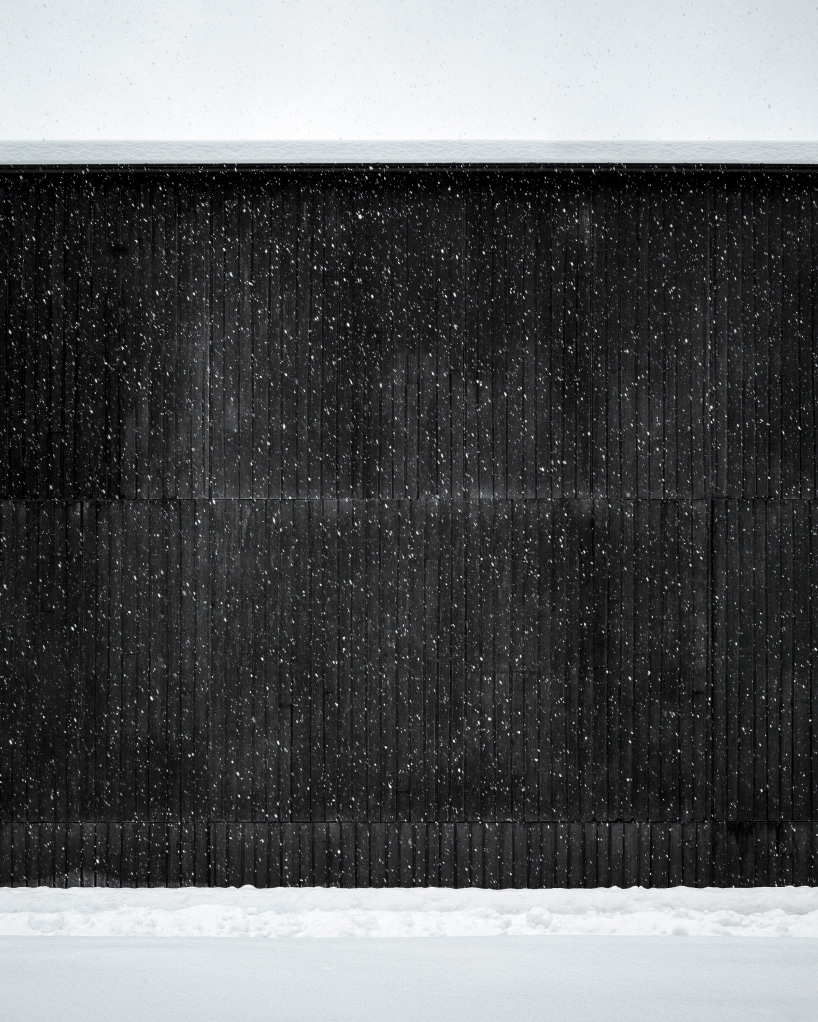 image © anders portman, kuvio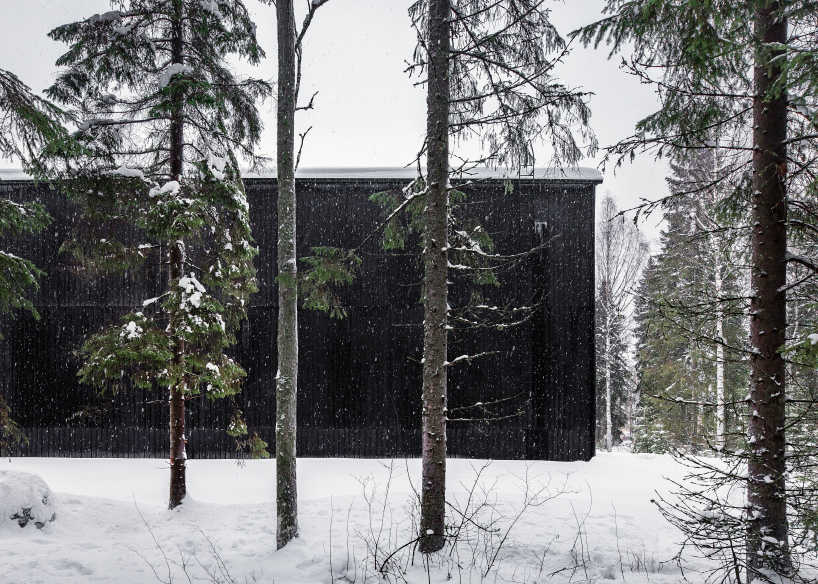 image © anders portman, kuvio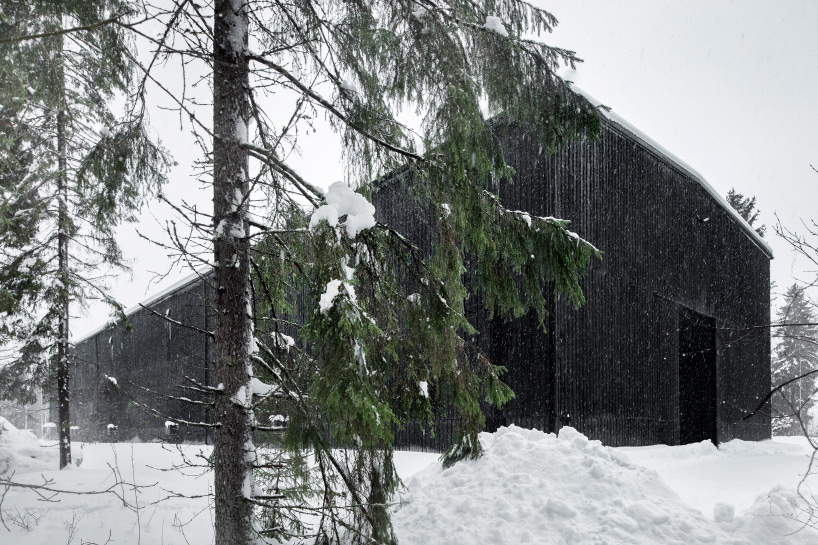 image © anders portman, kuvio
project info:
name: kyrö barrell storage building
building type: industrial storage building
location: kalpatie, isokyrö, finland
design: 2018
construction: 2018- 2019
gross area: 1,065 sqm
total cost: 1,56 m €
client: kyrö distillery company
project management: robert sivula / kyrö distillery company
designers —
architects: avanto architects ltd / ville hara and anu puustinen, architects SAFA
assistants: emmanuel laux, architect, miyuki wakasugi, student of architecture
structural design: ramboll finland oy / markku savela, matti passi
HVAC-designer: ramboll finland oy / tuomo korpi
electric design: ramboll finland oy / tuukka perttula
contractors —
prime contractor: rakennustoimisto jussi korpi oy
concrete elements: oy tara-element ab
special relief molds: finn-form oy
excavation and gr.works: kuljetus tuomet oy
heating and plumbing: isonkyrön lvis oy, sähkötyö haapala oy
ventilation and AC: ilmaset ky, ls-sähkötekniikka oy
building automation: schneider electric oy
photography: anders portman, kuvio
philip stevens I designboom
mar 28, 2019
The post avanto architects builds barrel storage facility for kyrö distillery company appeared first on Architecture Admirers.