the first permanent, purpose-built facility for youth orchestra los angeles (YOLA) is set to begin construction. designed by frank gehry, the building was unveiled by the los angeles philharmonic (LA phil) in august 2018, with the project set to break ground in spring 2019. the 25,000-square-foot, $14.5 million scheme will transform a former branch office of security pacific bank located at 101 south la brea avenue, in the civic center of the city of inglewood.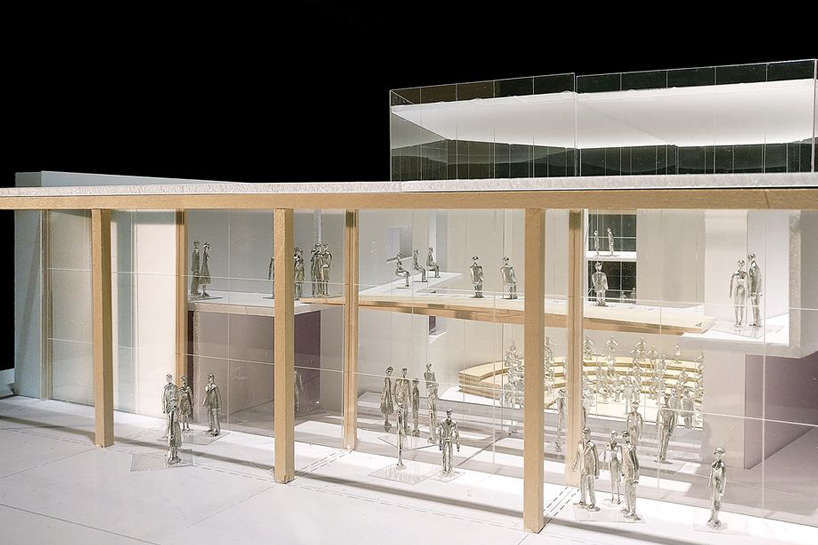 exterior model view of the judith and thomas l. beckmen YOLA center @ inglewood, interior concert configuration
image courtesy of gehry partners, LLP
established by the LA phil in 2007 and led by music and artistic director gustavo dudamel, YOLA currently serves more than 1,200 students — providing free, high-quality music training and academic support. now, as the organization celebrates its centennial year, it is aiming to double the number of students that YOLA serves by establishing a permanent base for the program. the new center will serve as a third venue for the los angeles philharmonic association, alongside walt disney concert hall (also designed by frank gehry) and the hollywood bowl.
the LA-based architect developed his design in close collaboration with dudamel, creating a light-filled, flexible facility for rehearsals, classes, and performances. 'it's a privilege for me to work with gustavo to create a place where students can feel comfortable, secure, and welcome as they learn to express themselves through music,' explains gehry. 'we hope that the building will become a center for the community to gather to hear performances of all types. I designed the center to be a world-class instrument for the community, and I can't wait to see how they use it.'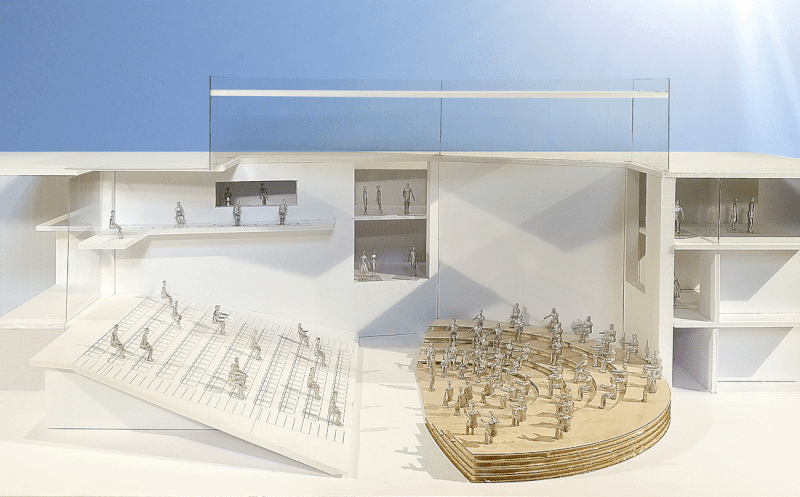 this animation created by curbed shows how the hall can be reconfigured
images courtesy of gehry partners, LLP
named after judith and thomas l. beckmen, the core of the beckmen YOLA center is a performance space that can convert into two smaller multi-purpose rehearsal spaces. in performance mode, retractable seating risers can be deployed to provide theater-style seating for 190, with an additional 70 persons being accommodated on a balcony. the seats and a large semicircular stage are set within an acoustic envelope designed by yasuhisa toyota, founder and president of nagata acoustics america, and frank gehry. a glass-walled roof pop-up on the la brea avenue side of the building will create a lantern effect for passersby, while allowing natural light to flow into the performance space below.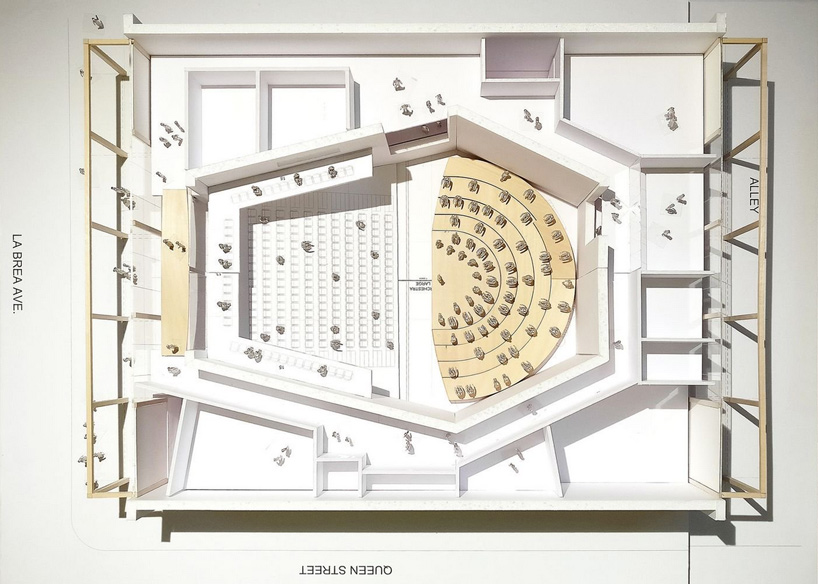 aerial model view of the judith and thomas l. beckmen YOLA center @ inglewood, concert configuration
image courtesy of gehry partners, LLP
for smaller performances and rehearsals, the risers can be retracted, and the core space can be divided by movable acoustic walls that extend from the floor to the roof structure. the balcony can serve as an observation area for the east space. the existing exterior materials — glass, metal, brick, tile, and plaster — will be restored or replaced as a part of the building redesign. to accommodate the program, the design extends the building's basement and mezzanine levels to match the full 11,500-square-foot footprint. construction expected to begin in spring 2019.
project info:
architect: gehry partners, LLP
acoustics: nagata acoustics america
client: LA philharmonic
philip stevens I designboom
dec 27, 2018
The post frank gehry designs youth orchestra los angeles center for LA phil appeared first on Architecture Admirers.