mexican architect frida escobedo, who designed the 2018 serpentine pavilion in london, has completed her fifth project with skin care brand aesop. for the company's third store in brooklyn, new york, escobedo was inspired by the park slope neighborhood's mid-19th century brownstone residences, with their repeating, angled façades. meanwhile, the store's intricately 'woven' brickwork recalls the textile artworks of anni albers.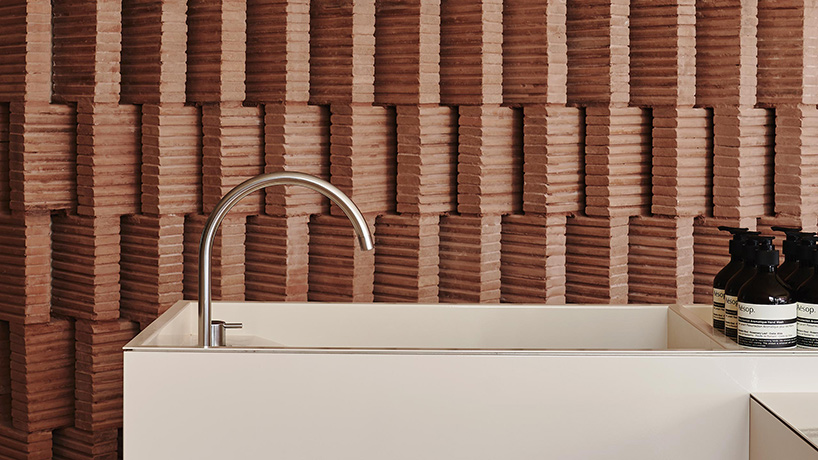 all images courtesy of aesop
aesop park slope's corner entrance welcomes customers into the heart of the store. conceived by frida escobedo as a reinterpretation of the meandering experience of walking through the brooklyn neighborhood, the interior includes alcoves and corners that emerge as areas of inhabitation and display. meanwhile, the negative space behind the walls becomes a place of repose for staff.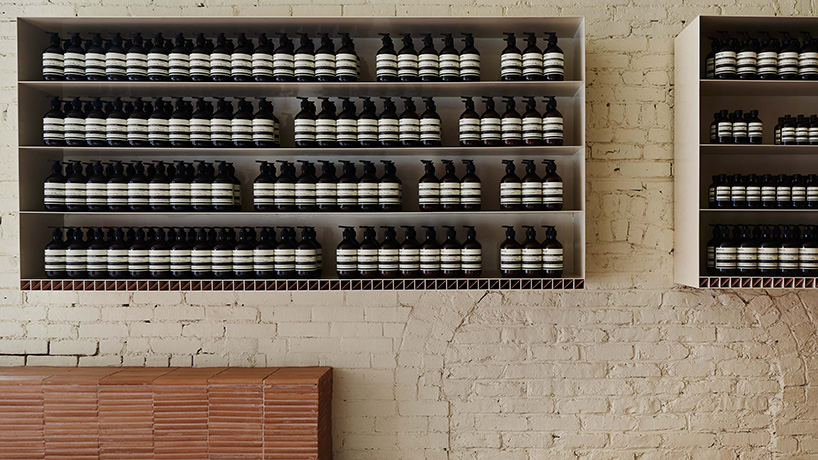 the design contrasts material sourced from mexico with the building's previously existing exposed brick
created in a workshop near escobedo's studio in mexico city, the bricks have been handcrafted using rammed earth sourced from oaxaca. rich with imperfections, variations of tone and texture, the bricks tessellate in diagonal rows that reiterate, at a smaller scale, the angling brownstone streetscapes. two narrow, powder-coated metal troughs overlap and diverge, repeating the formal language.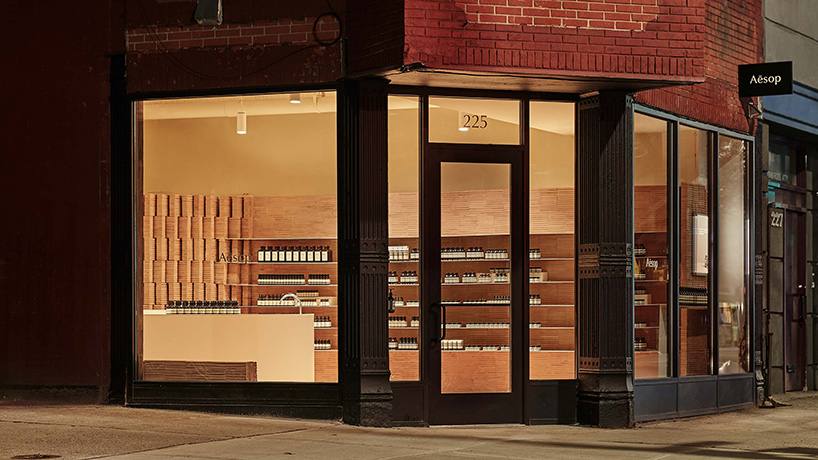 a corner entrance welcomes customers into the heart of the store
aesop was founded in melbourne in 1987 and continues to work with celebrated architects and designers on its stores around the world. see more aesop stores on designboom here.
project info:
design: frida escobedo
client: aesop
location: 225 5th avenue, brooklyn, NY 11215
open: monday – sunday, 11am – 7pm
philip stevens I designboom
apr 20, 2019
The post frida escobedo completes 'aesop park slope' store in brooklyn appeared first on Architecture Admirers.