jewel changi airport, the mixed-use development designed by safdie architects, is set to open to the public for the first time. the project's centerpiece is the world's tallest indoor waterfall, officially known as the 'HSBC rain vortex', which is surrounded by the shiseido forest valley, a four-storey garden filled with thousands of plants and trees. meanwhile, the site's recreational facilities, including climbable sky nets, a hedge maze, and a series of slides, will open at a later date.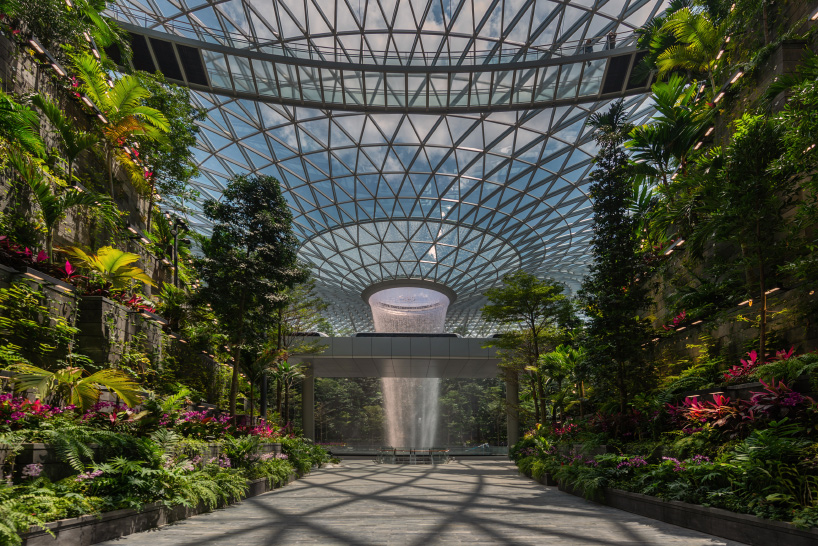 the shiseido forest valley surrounds the HSBC rain vortex
image courtesy of jewel changi airport devt. (also main image)
designed by safdie architects and opening on april 17, 2019, jewel changi airport serves as a vibrant center of community activity, combining an immense indoor garden with retail and operational facilities to create a new destination for the airport. in addition to the expansive indoor landscape, the soaring glass-enclosed building also contains retail galleries, restaurants, a hotel, and landside airport operations.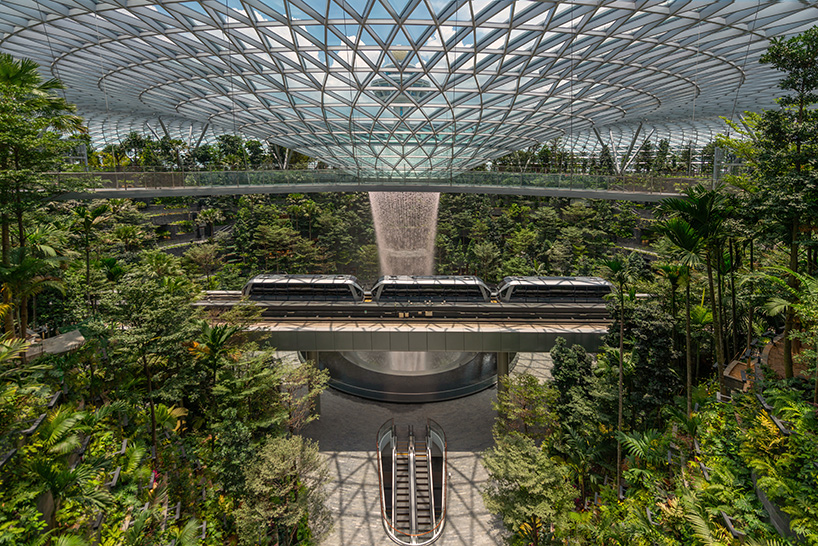 the south viewing deck offers all-encompassing views
image courtesy of jewel changi airport devt.
'jewel weaves together an experience of nature and the marketplace, dramatically asserting the idea of the airport as an uplifting and vibrant urban center, engaging travelers, visitors, and residents, and echoing singapore's reputation as 'the city in the garden,' says moshe safdie. 'jewel presents a new building prototype for connecting the city and the airport,' adds jaron lubin, principal at safdie architects. 'like an ancient greek 'agora,' it aligns social and commercial values to create an animated public realm destination.'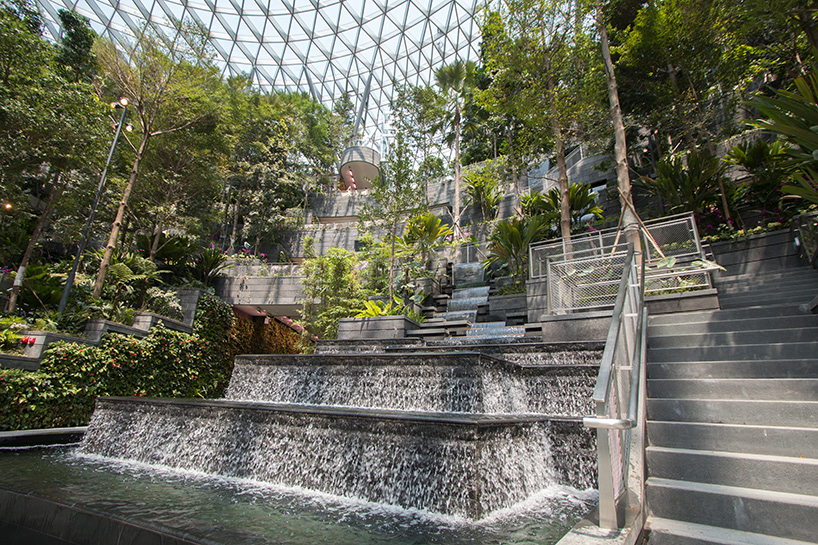 the four-storey garden is filled with thousands of plants and trees
image courtesy of jewel changi airport devt.
to realize the project, safdie architects brought together and led a global collaboration of talent in the fields of engineering, landscape architecture, water feature design, interior design, and art. BuroHappold engineered the steel structure and developed the building's complex façade systems, while atelier ten developed the site's climate control, daylighting, and environmental systems. singapore-based firm RSP served as the project's executive architect, working in close collaboration with safdie's boston and singapore offices.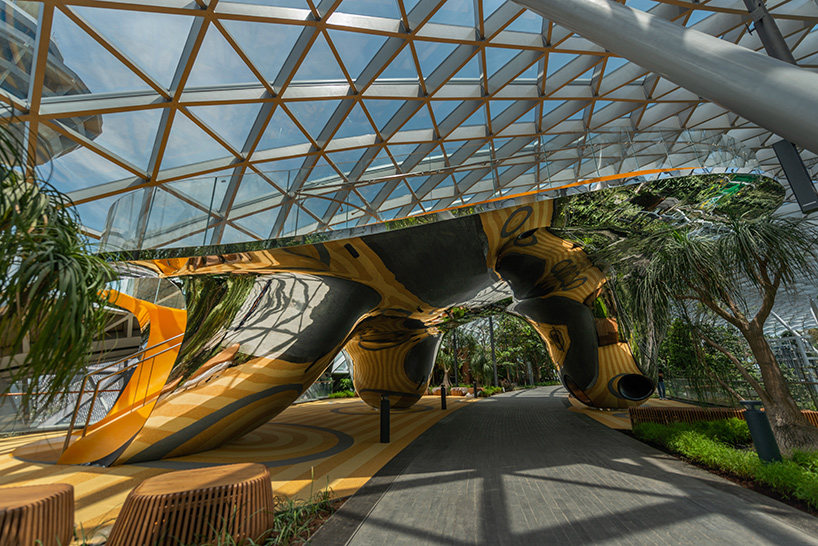 the 'discovery slides' will open on june 10, alongside the site's other play attractions
image courtesy of jewel changi airport devt.
PWP landscape architecture worked closely with the team to shape and develop the lushly landscaped 'forest valley,' and led the design of the gardens. to create the first climate-controlled, indoor forest, PWP carefully selected plant life that would thrive within the targeted interior conditions and create a garden without draining resources. PWP collaborated with singapore-based ICN to develop and deliver the landscape design. WET engineered the 'rain vortex' at the center of the forest valley garden. the firm developed a system that integrates sounds with projections from 360 degrees around the vortex to enable nightly light shows upon the waterfall.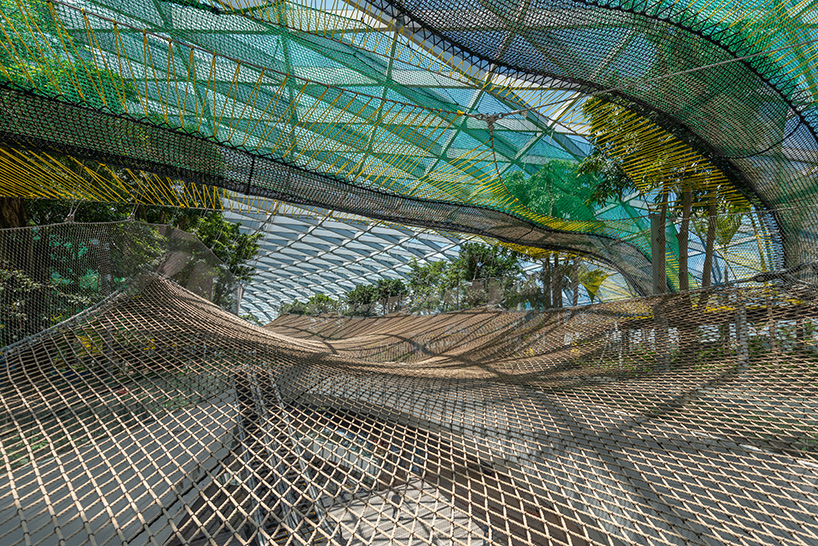 sky nets allow visitors to walk 25 meters above the ground
image courtesy of jewel changi airport devt.
benoy collaborated with the team to design the retail identity for the project, as well as the 'meeter-greeter hall' — the key interface with terminal 1. meanwhile, pentagram, working in collaboration with entro, designed a comprehensive program of signage and wayfinding. the signage is integrated with the architecture to create a system of way-finding that references the project's urban character and works together to guide travelers. the project's phased opening commences april 17, 2019.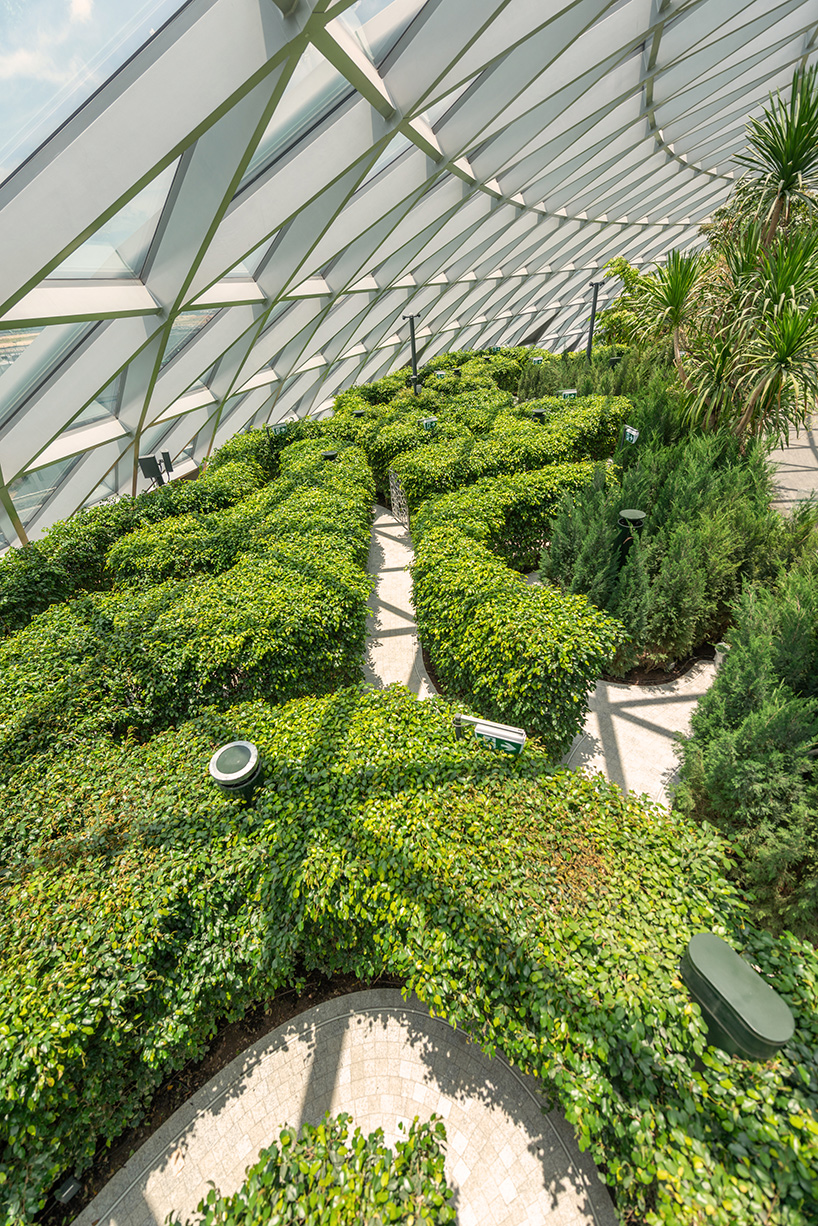 a hedge maze is even included as part of the project
image courtesy of jewel changi airport devt.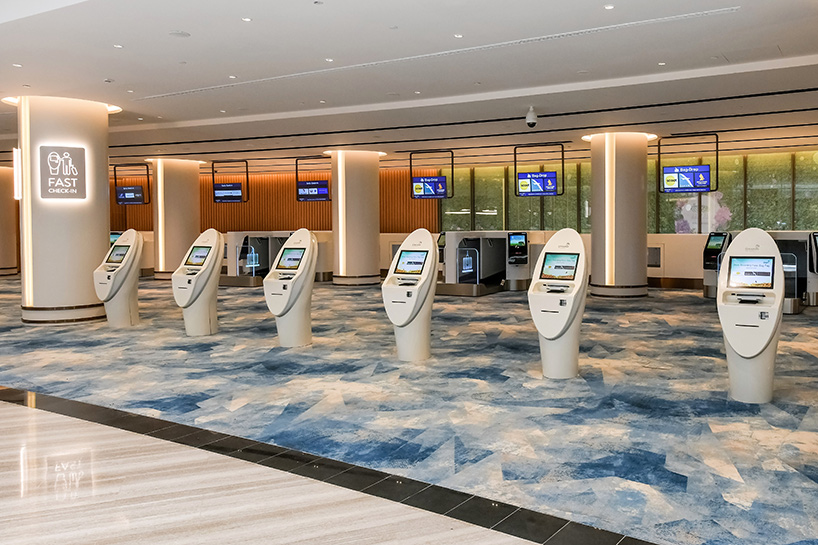 early check-in facilities are available for travelers who arrive at the airport early
image courtesy of changi airport group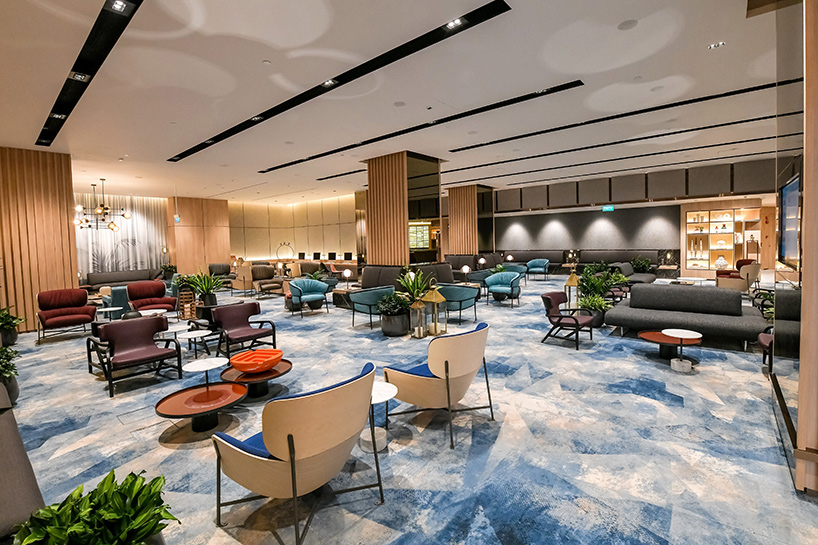 the changi lounge is equipped with seating area, shower facilities, and refreshments
image courtesy of changi airport group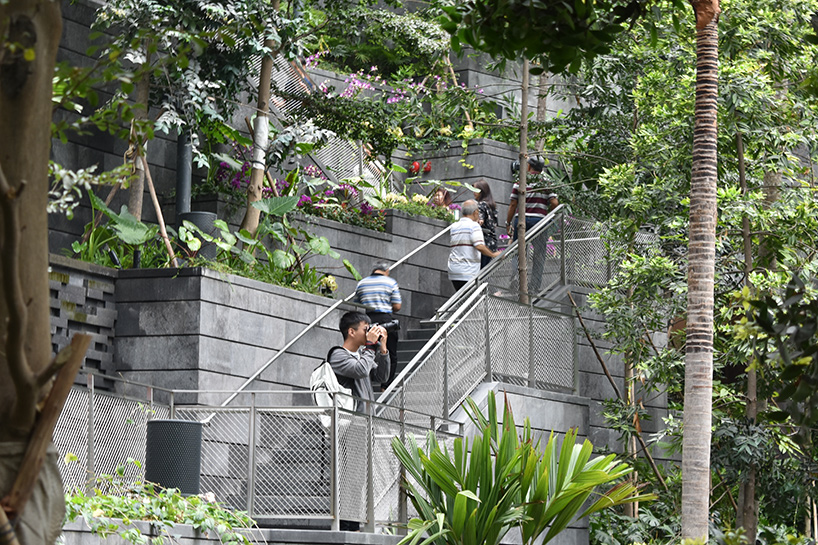 vantage points at shiseido forest valley walking trails
image courtesy of jewel changi airport devt.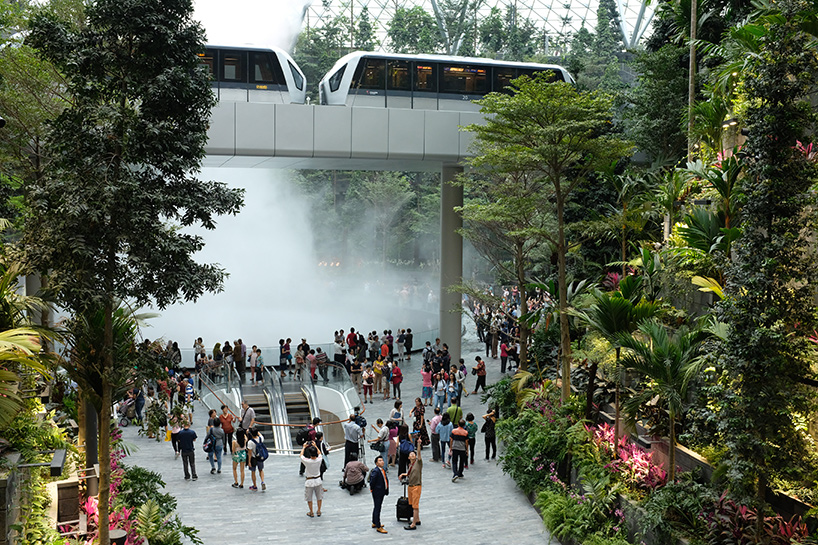 the public have been invited to preview the project before it fully opens
image courtesy of jewel changi airport devt.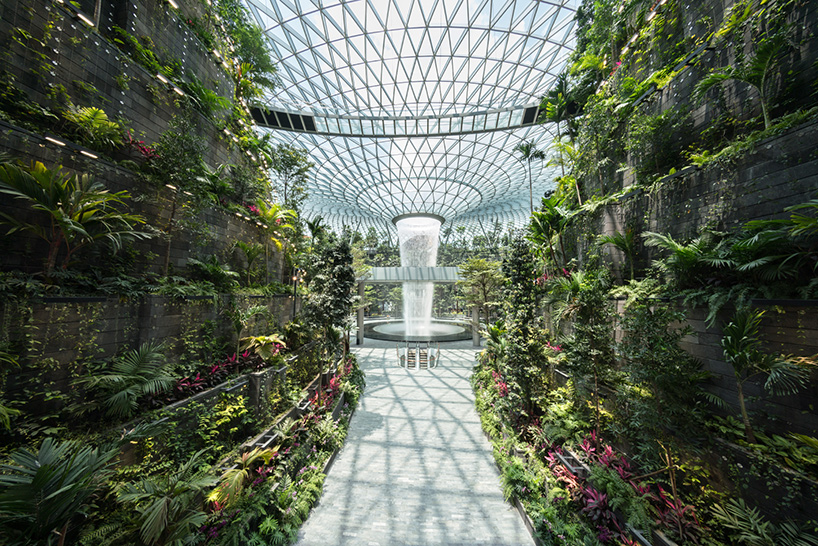 the dome houses the world's largest indoor waterfall
image courtesy of jewel changi airport devt.
project info:
project name: jewel changi airport
client: jewel changi airport trustee pte ltd
location: changi airport, singapore
building area: 134,000 sqm
program: airport operations, indoor gardens, leisure attractions, retail offerings, hotel facilities
design architect: safdie architects
project design: moshe safdie
project principals: jaron lubin, charu kokate, greg reaves
design team: david foxe, seunghyun kim, benjy lee, dan lee, reihaneh ramezany, laura rushfeldt, isaac safdie, damon sidel, temple simpson, andrew tulen
executive architect: RSP architects planners & engineers pte ltd
landscape design: PWP landscape architecture
executive landscape architect: ICN international singapore
structure: RSP architects planners & engineers pte ltd
façades: buro happold
engineering ESD: atelier ten
MEP: mott macdonald
signage/wayfinding: pentagram and entro communications
retail interiors: benoy
water feature: WET design
lighting: lighting planners associates
philip stevens I designboom
apr 12, 2019
The post jewel changi airport prepares to open to the public in singapore appeared first on Architecture Admirers.