netherlands-based studio RO&AD architecten designs the egg-shaped structure entitled 'T IJ as part of a series of objects designed to celebrate the opening of the 'haringvliet sluices.' a group of dam-like hydro constructions, the 'sluices' were opened in order to improve water quality and biodiversity while stimulating fish migration. the structures work to create a new, salt-resistant and salt-loving natural environment. the biodiversity in the surrounding nature reserves will increase while a more robust, healthier ecosystem will develop in the upcoming years. to let people experience and explore these changes, a series of bird observatories, including 'T IJ, have been designed on the haringvliet site.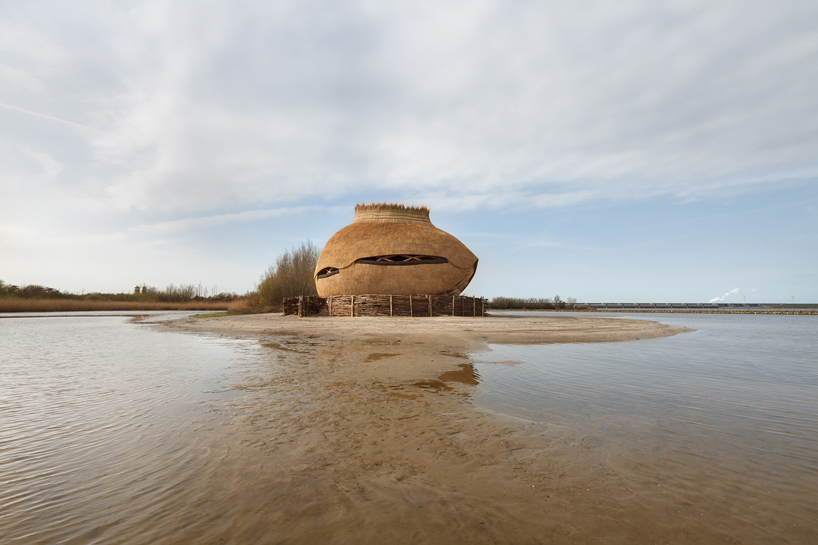 all images by katja effting
'TIJ' meaning 'tide' is a dutch word-play which refers to the returning tides in the haringvliet, and when pronounced quickly means 'the egg.' the egg-shaped bird hide designed by RO&AD architecten is situated in a nature reserve near the netherlands' haringvliet sluice. as these islands are breeding grounds and home to several species of birds, the observatory is part of a large scale landscaping plan which offers a place to view several different species.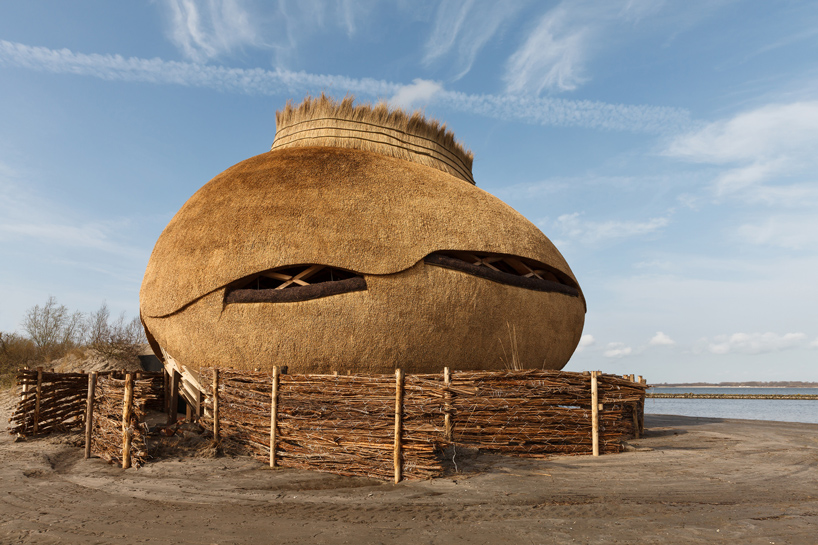 to prevent the birds from being disturbed, the last section of the path takes the form of a tunnel built of up-cycled mooring posts and second-hand azobe planks which were once used in the brick industry. the tunnel is covered in sand to provide a habitat for native birds such as terns or waders. the outside of the tunnel provides artificial nesting holes for sand martins. the end of the walking route is the egg-shaped bird hide from which an observer can view the species that live in and around the water.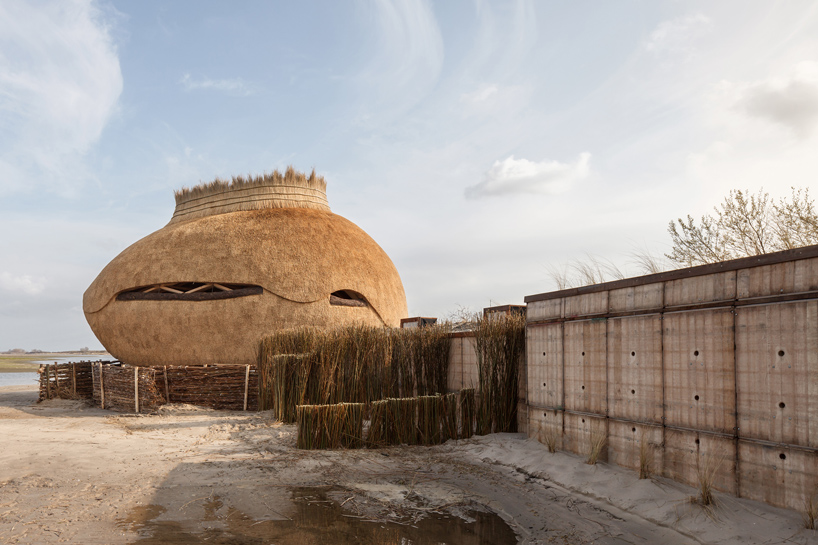 sitting on a nest of sand, the form of RO-AD architecten's 'T IJ takes influence from the egg of the 'tern.' the structure's foundation, or the nest of the egg, consists of vertical 'feathers' of chestnut poles, reeds, and small sand dunes. the egg itself is parametrically designed to achieve an efficient ratio between form, structural integrity, size of the timber, and size of the openings. the structure has been constructed to provide relatively large spans with small timber parts.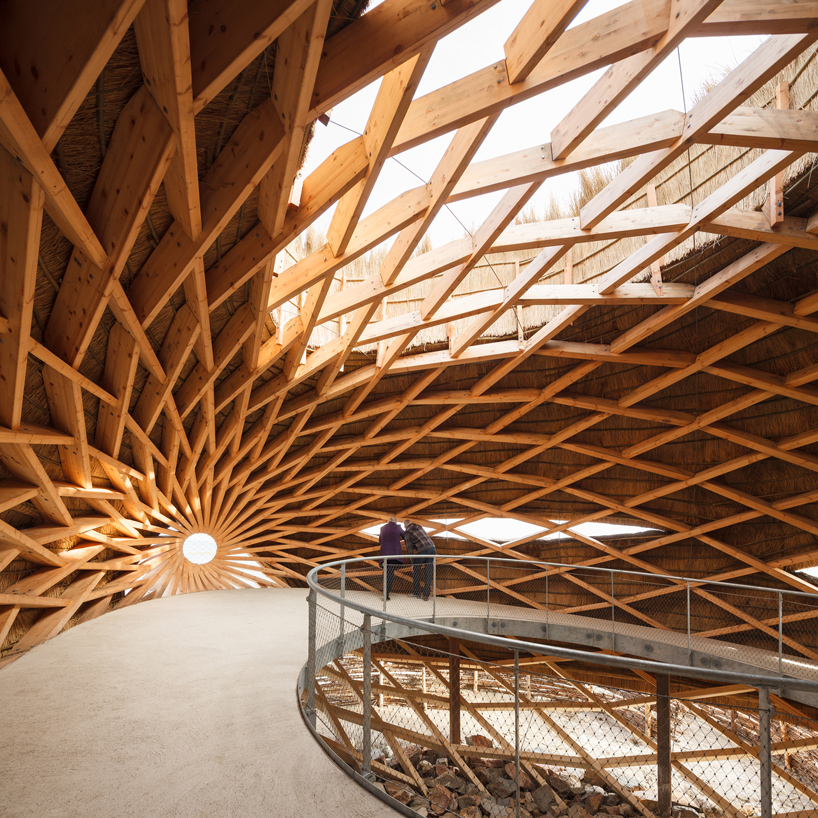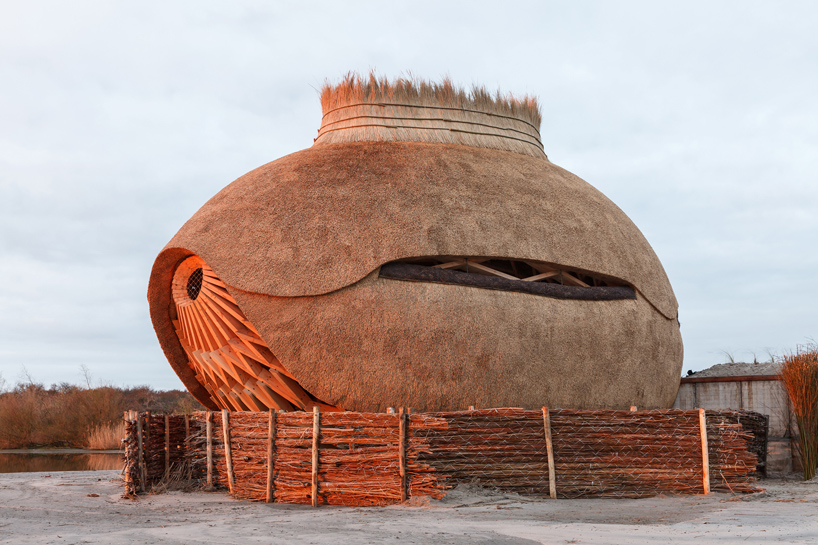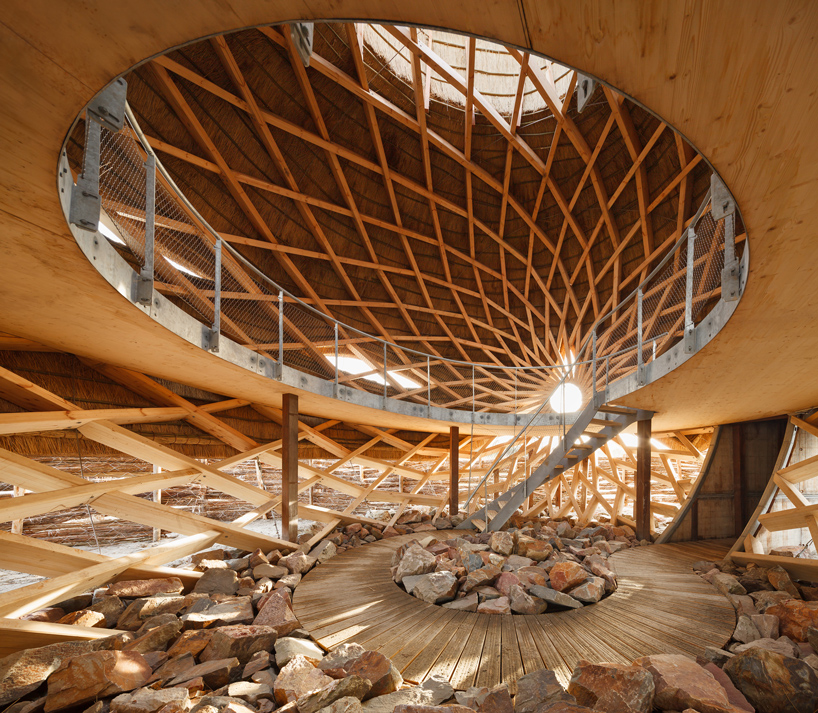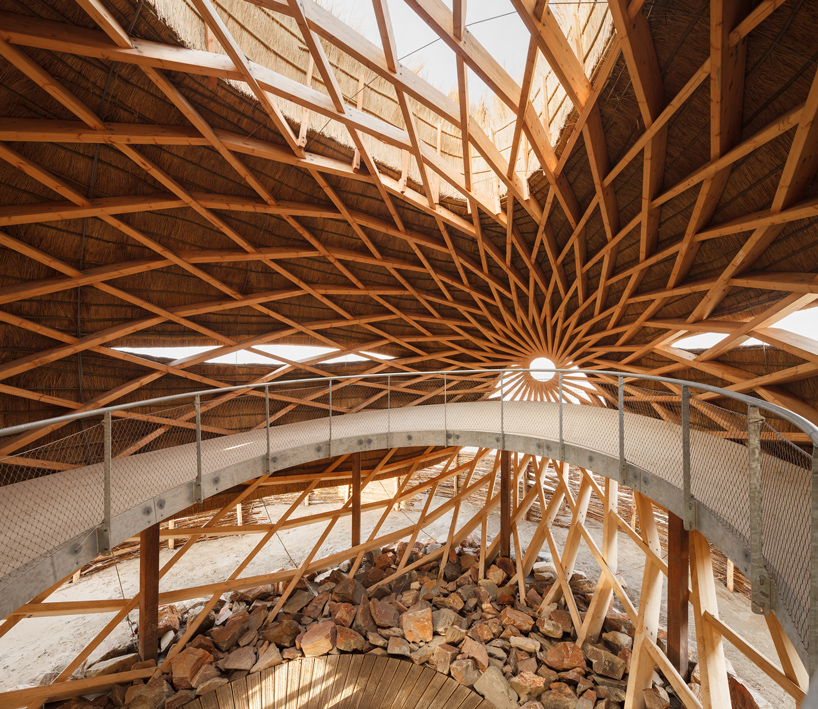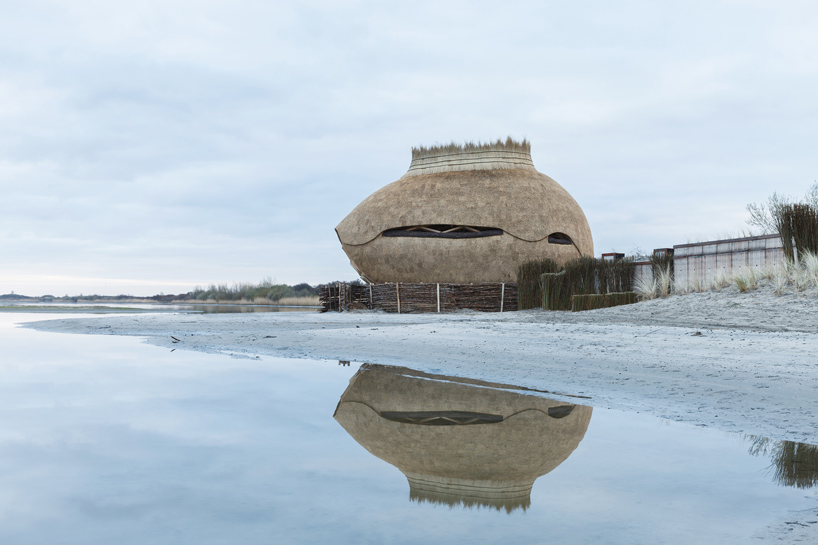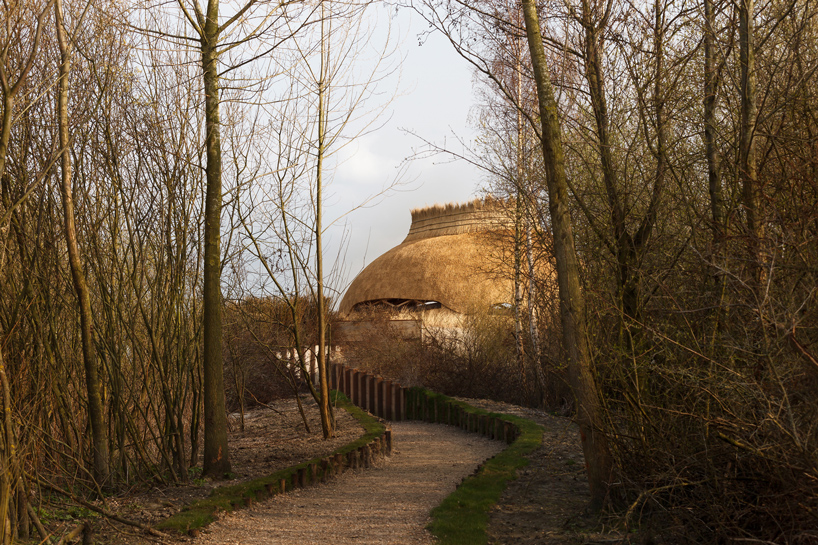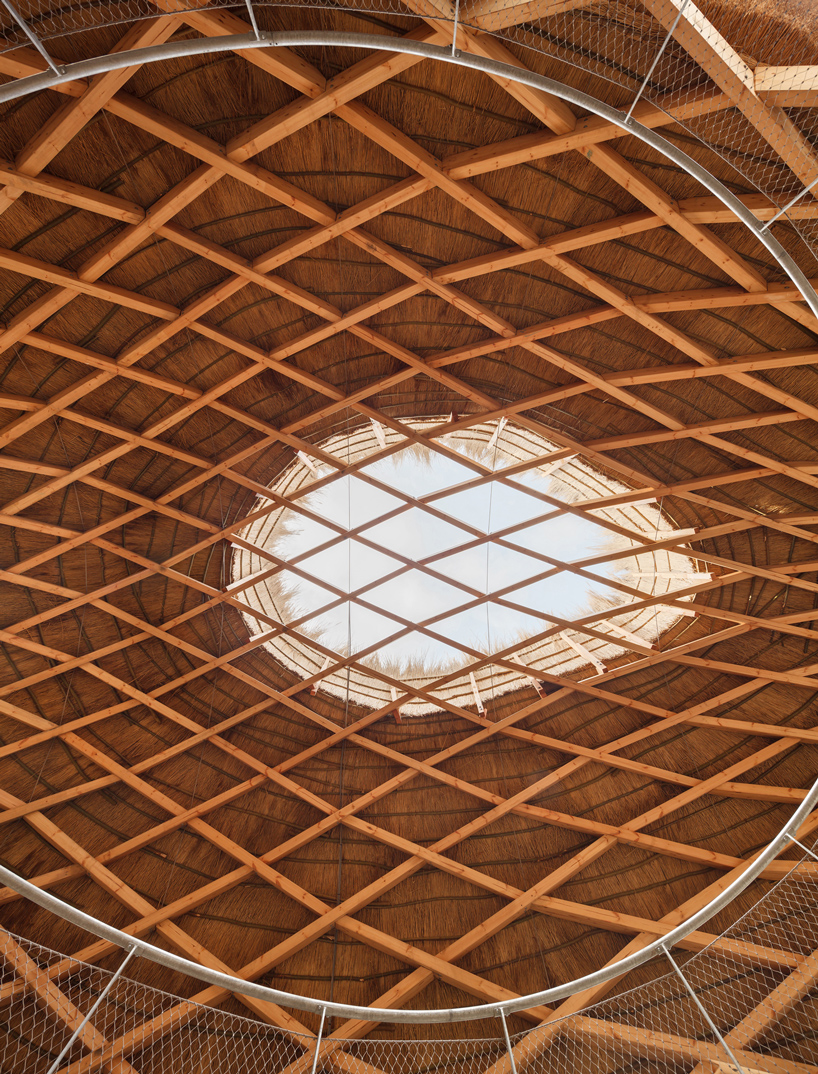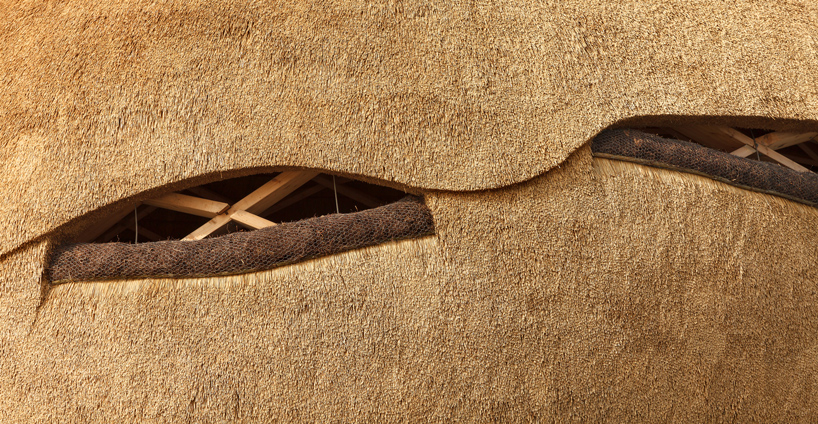 project info:
project title: 'T IJ 'the egg'
architecture: RO&AD architecten, RAU architecten
location: scheelhoek, the netherlands
program: bird obsevatory
construction period: october 2018 — march 2019
design team: ad kil, ro koster, martin van overveld, athina andreadou,  loyse rebord, rodrigo altamirano
client: vogelbescherming & natuurmonumenten
primary structural engineer: breedID, den haag
wood engineering: aalto university, geometria
landscape: H+N+S landschaps architectuur
contractor: van hese infra, middelbur
thatched roof: elg rietdekkers
photography: katja effting
The post RO&AD constructs egg-shaped bird observatory along netherlands coast appeared first on Architecture Admirers.