joining the 'BUGA fibre pavilion' in the german city of heilbronn is another temporary structure that serves as a pioneering architectural attraction. the 'BUGA wood pavilion', designed by the institute for computational design and construction (ICD) and the institute for building structures and structural design (ITKE) at the university of stuttgart, features a segmented wood shell that explores new approaches to digital timber construction.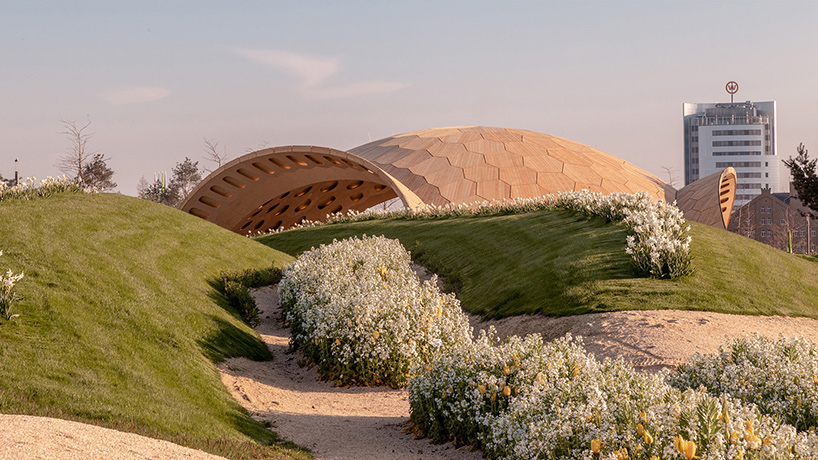 image © ICD/ITKE university of stuttgart (also main image)
the enclosure is based on biological principles found in the plate skeleton of sea urchins, which have been studied by the ICD and the ITKE at the university of stuttgart for almost a decade. as part of the project, a robotic manufacturing platform was developed for the automated assembly and milling of the pavilion's 376 bespoke hollow wood segments — a process that ensures that all segments fit together like a three-dimensional puzzle. the wooden roof spans a total of 30 meters (98ft) creating a large space for events and concerts.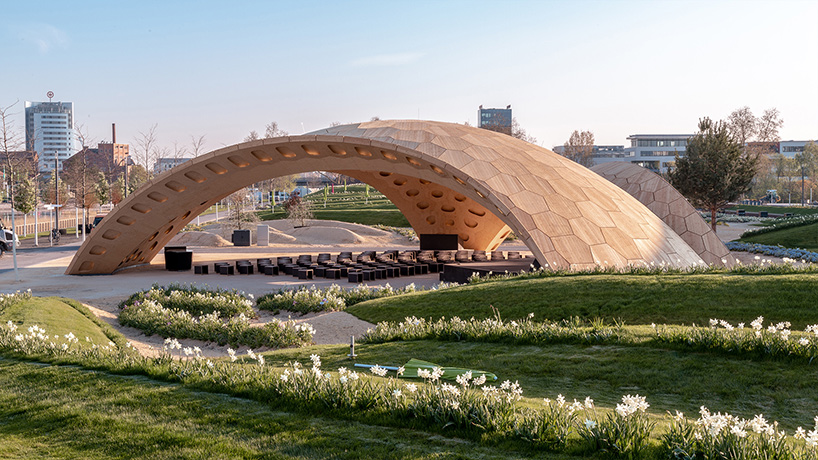 image © ICD/ITKE university of stuttgart
in order to minimize material consumption and weight, each wood segment is built up from two thin plates that plank a ring of edge-beams on top and bottom, forming large scale hollow wooden cases with polygonal forms. the bottom plate includes a large opening, which constitutes a distinctive architectural feature and provides access to the hidden connections during assembly. in the assembled state, the shell works as a form-active structure through its expressive double-curved geometry.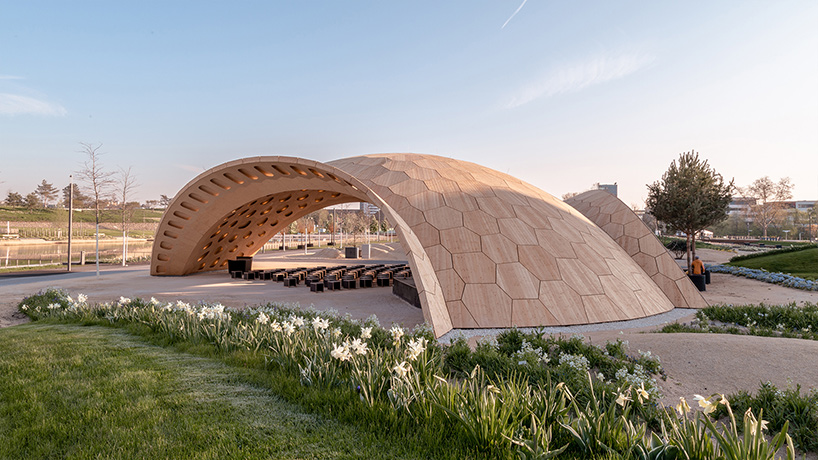 image © ICD/ITKE university of stuttgart
'the design of the pavilion happens concurrently and in feedback with the design of the robotic manufacturing set-up, which is a bespoke development for the project,' explains the design team. 'the highly integrative process enables the design and engineering of 376 unique plate segments with 17,000 different finger joints in response to multifaceted design criteria, from the scale of the overall structure down to sub-millimeter details.'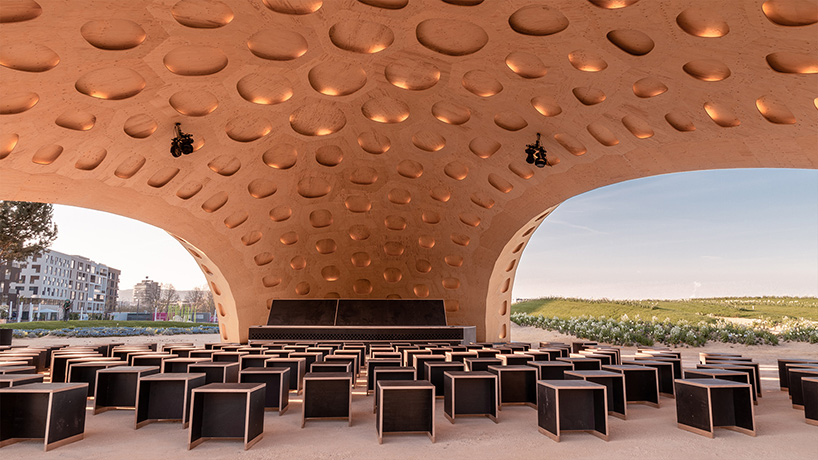 image © ICD/ITKE university of stuttgart
compared to a solid wood plate, the hollow building segments significantly reduce weight and material. however, they increase the number of building parts and lead to more complex manufacturing. consequently, a transportable robotic timber-manufacturing platform was developed specifically for the project. the platform includes two industrial robots mounted on a 20-foot standard container base.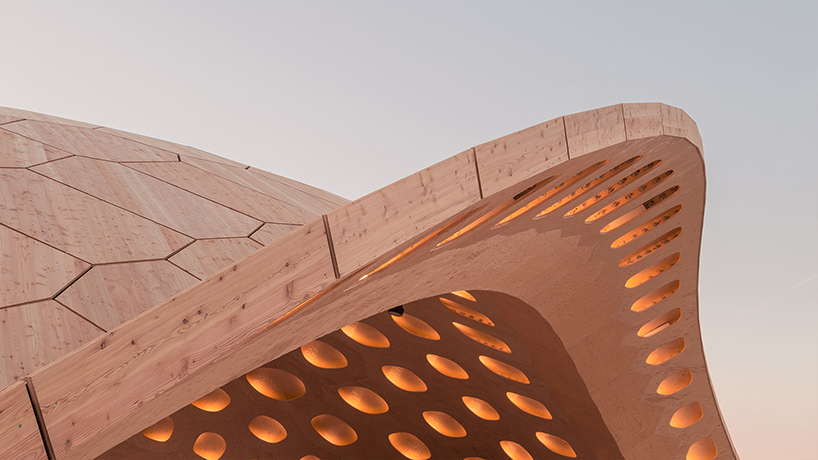 image © ICD/ITKE university of stuttgart
each bespoke shell segment was robotically assembled. this involved the placement of preformatted timber plates and beams, their temporary fixation with beech nails, and the controlled application for the structural glue joint between plate and beam. the intricate finger-joints and openings are then machined into the segments. the entire process happens in a fully automated workflow, controlled by 2 million custom lines of robotic code. on average, the assembly time per segment is 8 minutes, with the high precision-milling taking another 20-40 minutes.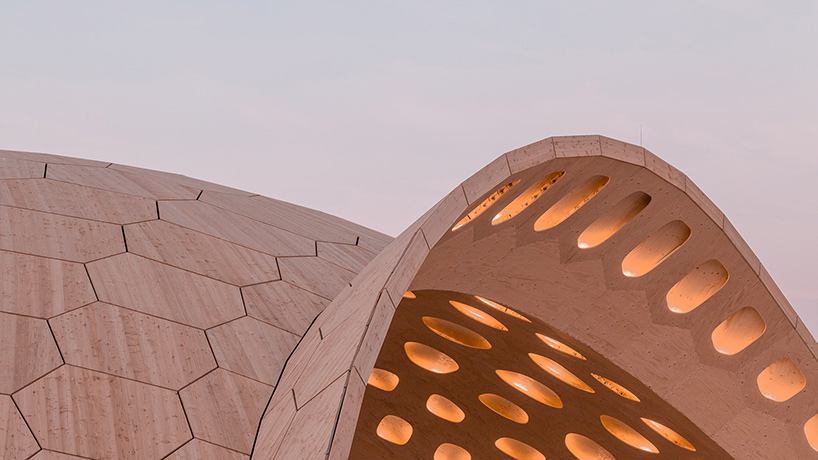 image © ICD/ITKE university of stuttgart
the prefabricated shell segments were assembled in only 10 working days by a team of two craftsmen, without the usually required extensive scaffolding or formwork. after connecting all segments with removable bolts, a layer of EPDM foil was rolled over the pavilion in 8 strips to provide waterproofing. meanwhile, untreated larch façade plates provide the external cladding of the pavilion. as with the 'BUGA fibre pavilion', the wood pavilion is located on the summer island of the bundesgartenschau 2019 and opens to the public on april 17, 2019.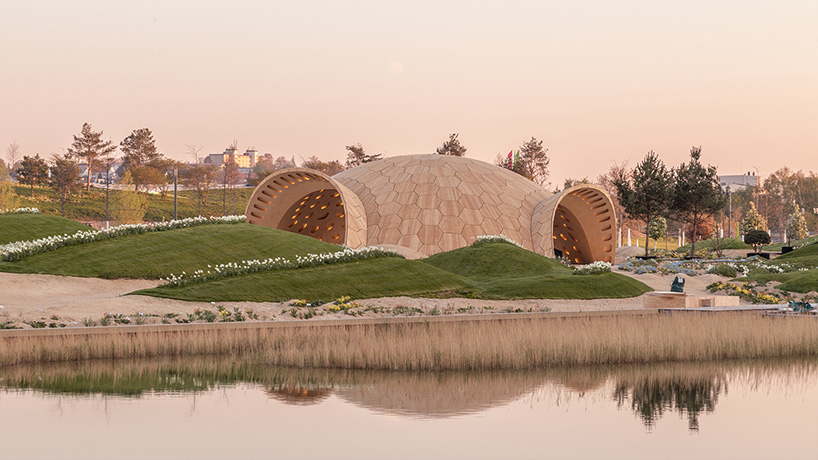 image © ICD/ITKE university of stuttgart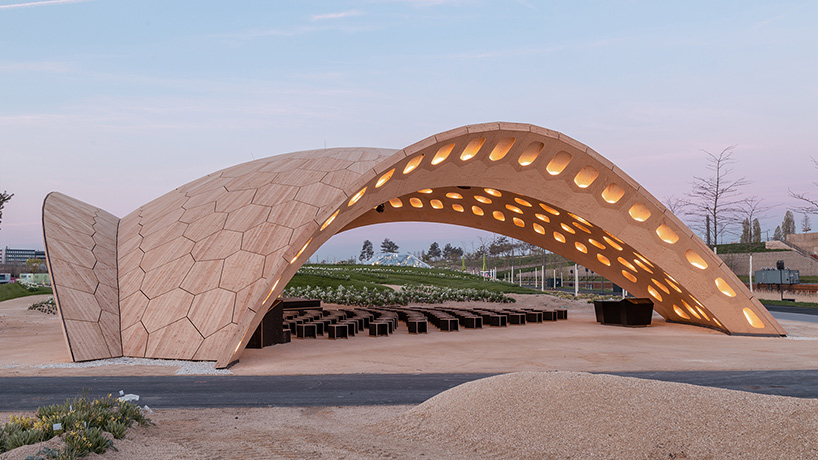 image © ICD/ITKE university of stuttgart
project info:
project partners:
ICD – institute for computational design, university of stuttgart
prof. achim menges, martin alvarez, monika göbel, abel groenewolt, oliver david krieg, ondrej kyjanek, hans jakob wagner
ITKE – institute of building structures and structural design, university of stuttgart
prof. jan knippers, lotte aldinger, simon bechert, daniel sonntag
with support of:
jorge christie, rebeca duque estrada, robert faulkner, fabian kannenberg, guillaume caussarieu, bahar al bahar, kyriaki goti, mathias maierhofer, valentina soana, babasola thomas
müllerblaustein bauwerke GmbH, blaustein
reinhold müller, daniel müller, bernd schmid
BEC GmbH
matthias buck, zied bhiri
bundesgartenschau heilbronn 2019
hanspeter faas, oliver toellner
project building permit process:
landesstelle für bautechnik: dr. stefan brendler und dipl.-ing. willy weidner
proof engineer: prof. dr.-ing. hugo rieger
MPA stuttgart: dr. simon aicher
planning partners:
belzner holmes light-design, stuttgart: dr. stefan brendler und dipl.-ing. willy weidner
BIB kutz GmbH & co.KG, karlsruhe: dipl.- ing. beatrice gottlöber
IIGS – institut for engineering geodesy, university of stuttgart: prof. volker schwieger, laura balange, urs basalla
project support: state of baden-wuerttemberg, university of stuttgart, EFRE european union, GETTYLAB, DFG german research foundation, carlisle construction materials GmbH, puren GmbH, hera GmbH & co. KG, beck fastener group, j. schmalz GmbH, niemes dosiertechnik GmbH, jowat adhesives SE, raithle präzisionswerkzeuge service, leuze electronic GmbH & co. KG, metsä wood deutschland GmbH
The post BUGA wood pavilion comprises segments that fit together like a puzzle appeared first on Architecture Admirers.